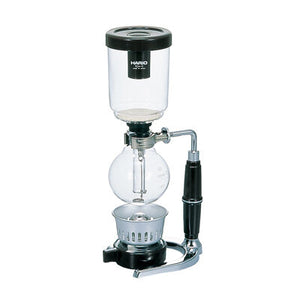 Syphon
Sale price Price Rs. 13,530.00 Regular price Rs. 450.00 Unit price / per
A coffee syphon with an outstanding presentation
While enjoying a rich aroma, you can also visually enjoy the coffee moving up and down through the glass bowl. If the extraction times are the same, there is little difference in flavor, making this apparatus a favorite amongst professionals.
Syphon Coffee Maker / Siphon Coffee Maker / Vacuum Coffee Maker

Coffee trend going on since the 1800s, Syphon Coffee is a Vacuum Coffee Maker, which gives you the best aroma coffee.

Made in Japan. By Hario Making Coffee equipment for a Century

Hario has been dedicated to the design, production, and sale of heatproof glass since it was founded in 1921 and is the only heat proof glass manufacturer in Japan to have a factory.

Channel your inner geek and enjoy the visual movements of your coffee.
SIZE  W 160 × D 110 × H 360mm  (For 5 Cups)
MATERIAL
Upper bowl, Lower bowl, Alcohol burner : Heatproof glass
Packing : Silicone rubber
Fastener : Brass
Stand : Stainless steel, Iron, Zinc alloy, Phenol resin
Burner cover, Filter : Stainless steel
Windbreak : Aluminum
Alcohol lamp holder, Cover and upper bowl stand, Measuring spoon : Polypropylene
MADE IN JAPAN   
AeroPress
We're proud to be selling our favorite coffee making machine! Using the ideal water temperature and gentle but rapid air pressure brewing yields rich flavor with lower acidity and without bitterness. The result is ultra smooth coffee that highlights each note of the single-estate coffees we sell!
Total immersion brewing results in uniform extraction of the ultimate in full, rich coffee flavor.

Micro filtered for grit-free coffee - unlike other press-type coffee makers.

Depending on the brewing method, you can make a cup of coffee in 1-2 minutes.

Makes American style coffee or an espresso-style shot perfect for use in lattes or cappuccinos
 PACKAGE INCLUDES:
Plunger

Chamber

Filter Cap

Stirrer

Scoop

100 paper filters