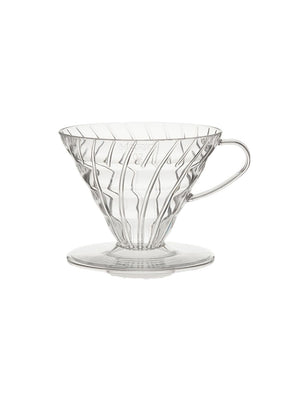 Hario V60 Plastic
Sale price Price Rs. 770.00 Regular price Rs. 450.00 Unit price / per
Hario V60 Plastic
The cone shaped paper filter adds depth to the coffee layer, so that the water flows to the center, extending the amount of time it is in contact with the ground coffee. 
 Hario V60 / Pourover 

Hario has been dedicated to the design, production, and sale of heatproof glass since it was founded in 1921 and is the only heat proof glass manufacturer in Japan to have a factory.

Manual brewing method allows you to choose your ideal brew time and temperature, ensuring a perfect cup of coffee.

The V60 will create a lighter bodied coffee, allowing delicate notes and flavours to come through.
Capacity: 1-4 Cups
Size: 02Material: Polypropylene
MADE IN JAPAN